Return to Headlines
Middle School ELA Teacher "Flies High" With the Blue Angels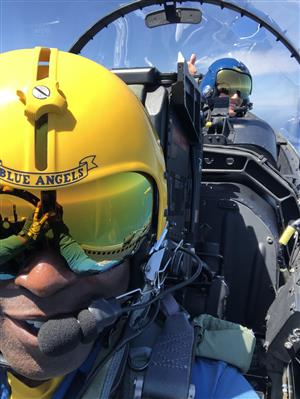 In the spring of 2021, Jill Orlowski was nominated by members of the 328th Aerial Squadron, a division of the 914th Airwing at the Niagara Falls Air Reserve Base, to fly with the Blue Angels at the Thunder Over Niagara Air Show in June. She was chosen from nominees selected by numerous organizations across Western New York and was given this honor for her work with our Cheektowaga Central Middle School students, her devotion to our country, and her selfless work with veterans within the community at large.
Mrs. Orlowski is well known in the Cheektowaga Central School District community for her patriotism, promotion of civic duty, work with local veteran's groups, the VA Medical Center, and her commitment to promoting the importance of "giving back" to others. At Cheektowaga Central Middle School, Mrs. Orlowski is the ELA Department Chairperson, teacher of English at the eighth-grade level, and has inspired a love of learning to her students for over 20 years. Each year, for nearly 20 years, she has organized the eighth-grade trip to Washington, during which her students visit the capital, create projects honoring local Cheektowaga Vietnam Veteran's and place these projects at the Vietnam wall. She has been involved each year in the Middle School's annual Veteran's Day breakfast and activities, has her students participate in the "Patriots Pen" essay program sponsored by the local V.F.W. and was nominated and received the honor of New York State Veterans of Foreign Wars: Teachers of the Year in 2021. For many years now, she has traveled in December to the Arlington National Cemetery to lay wreaths on the graves of the fallen. She has instilled a high level of learning in her students who are eager to read, write and give back to our local community of soldiers and veterans. It is this desire to promote the positive and remember those who have given so much for our country that caught the eye of the members of the 328th Aerial Squadron when they were looking for a civilian to receive this honor.
She was chosen to fly in an F-A18, Super Hornet, piloted by Blue Angels Lieutenant Julius Bratton. On June 18, 2021, Mrs. Orlowski boarded the plane and was catapulted into the air at tremendous speed. The F-A18 Super Hornet can break the speed of sound, with the most trained fighter pilots defying gravity and pulling 7-9 "G's" or "G-force." These pilots can reach speeds of up to 1190 miles per hour. Mrs. Orlowski described the flight as a "life-changing experience." She flew that day in honor of her grandfathers, both of whom were World War II veterans.
In addition to Mrs. Orlowski, Sean McDermott, Coach of the Buffalo Bills was also chosen to fly with the Blue Angels.