Return to Headlines
Three Seniors Create Outfits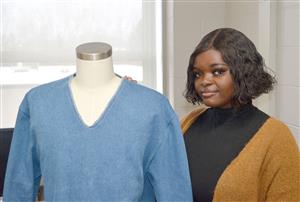 Three Cheektowaga High School seniors in the Erie 1 BOCES Fashion Design Technology program have created a line of individually designed outfits.
They will debut the outfits at a future fashion show, 2020 FUSION Fashion Show: Figment of Imagination. Originally scheduled for March 19, the FUSION Fashion Show will be rescheduled.
Martiana Woods, Ngan "Amy" Duong and Thalia Annarino are three of the senior students exhibiting their personally designed and sewn collections at the fashion show. Martiana explained her line of clothing draws from her grandmother's love for denim. Amy said she was inspired to bring her country's traditions to others through dominant colors of blue and pink. Thalia's line was inspired by different types of mothers dressing appropriately and showing off their style.
"Fashion has always been my thing ever since I was a little girl. I've always loved the way different designs looked on fabrics. I love the colors, and the different types of textures," Martiana noted. "I love seeing how fashion brings people together. No matter the race, size, age or gender, fashion is all a part of our lives and that's what makes us one."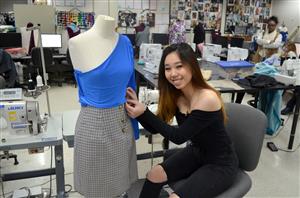 "I'm always thinking about designs. I started sewing clothes for my dolls when I was little," Amy stated. "Although my friend said the outfits didn't look right, I continued because in my mind, it was a unique combination I referred to as, 'hidden and awesome.' I love creating new combinations and I'm hoping to create new trends in the fashion industry."
"The fashion industry is inside everyone because everyone likes their own style. We express ourselves differently to certain people, whether it's work or family or friend events," Thalia pointed out. "With fashion, I've discovered where my place in the industry is, and that's to be a tattoo artist. Tattoo artists have to have a good, steady hand."
After high school, Martiana plans on going to college for fashion merchandising and becoming a stylist. Amy said she plans to go to college as well and find a job in the fashion industry, and Thalia noted she will go to college in Texas to study business and art.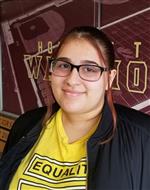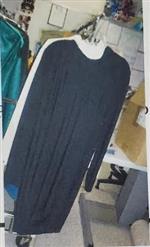 In addition to the seniors, juniors will be presenting upcycled items from previously worn garments at the show.
The show has evolved into a collaborative event across various Erie 1 BOCES programs. Barbering and Cosmetology students will be doing hair and makeup for over 75 models, while Criminal Justice students will provide support for security. Digital Media students produced videos that will introduce each fashion student and their collection; these students also assisted in professional photos and videography for the show.
Through the Fashion Design Technology program at the Harkness Career & Technical Center, students learn to create, style and trend forecast based on design elements and the fashion cycle. Participants also create a successful business plan for a fashion business, setting them up for future success.