Return to Headlines
District Names 2019 Community Involvement and Wall of Fame Recipients
A family physician, the volunteer department at Hospice and a PTA president are the recipients of the 2019 Cheektowaga Central School District Community Involvement and Wall of Fame awards.
This award program recognizes significant contributions of time and talent to benefit the Cheektowaga Central School District and the community at large. The awards are presented by the Cheektowaga Board of Education.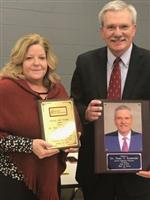 Dr. Peter F. Kowalski, a 1978 graduate, is the recipient of the 2019 Wall of Fame Award. A physician specializing in family medicine, he received his bachelor's degree from Canisius College and his medical degree from Georgetown University School of Medicine. As a Clinical Assistant Professor in the Department of Family Medicine at the Jacobs School of Medicine and Biomedical Sciences at the University of Buffalo, he has taught medical students for more than 30 years. He directs the department's Grand Rounds program. He practices at UBMD Family Medicine of Amherst. He has not strayed far from his Cheektowaga hometown roots. Since 1991, he has been the Cheektowaga Central School District physician. Farther away from home, he participates each year in a week-long medical mission trip to Mexico where he sees close to 1,000 patients with the help of the Sisters of St. Francis. He also volunteers evenings throughout the year at the Lighthouse Free Medical Clinic, run by UB medical students. Dr. Kowalski is the recipient of numerous teaching and healthcare awards, including the Family Medical Preceptor Teaching Award (2014); Louis A. & Ruth Siegel Award for Excellence in Teaching (2014); Business First Healthcare Top 50 Physicians (2010); Family Practice Educator of the Year (2006); Family Medicine Inpatient Teaching Award (2002); and Hispanics United of Buffalo Healthcare to the Hispanic Community (1999). He is pictured with Renee Wilson, Board President.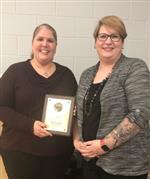 Lisa Nestico, volunteer coordinator at the Center for Hospice and Palliative Care, accepted the Community Involvement Award in the Business Agency Organization category on behalf of her department. She is the Hospice point of contact for the volunteer efforts of Cheektowaga Central High School students in the Students Against Destructive Decisions (SADD) club. Students in the SADD club have regularly volunteered at Hospice to decorate the Hospice Christmas tree for a community lighting ceremony, dress as superheroes for a Halloween party, wear a chicken costume for a fundraiser and prepare and sell the Hospice flower bouquets. Mrs. Nestico shares with the students how impactful their volunteer efforts are and helps them to understand the importance of community involvement. She plays an active role in teaching real life compassion to the students and has shown a commitment to partnering with the Cheektowaga Central School District. She is pictured with Heather DuBard, Board VP.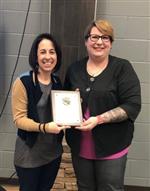 Staci Sass, the 2019 recipient of the Community Involvement Award in the Volunteer category, is generous with her ideas and her time, all to the benefit of our youngest students. She has served as the Union East Elementary School PTA president helping to increase membership, participation and school support. This year, she accepted the responsibility of running the school store for all students during lunch. Elementary students use their Warrior Way tickets to purchase items. Mrs. Sass organizes the items, rotates what is available each week to increase interest and mans the table two days a week to allow students to shop. In addition, she serves on the Project Positive committee and is a welcome voice with ideas and resources that benefit all students. She is pictured with Heather DuBard, Board VP.
The Wall of Fame award recognized the outstanding achievement and contributions of a Cheektowaga Central student who has graduated at least 10 years ago and has achieved great distinction in academia, public service, business, athletics, or visual and performing arts.
The Community Involvement award comprises seven categories where an individual or group has volunteered, worked or served in a capacity to positively impact Cheektowaga Central and its students. The categories include School/District Committees, Sports/Athletics, The Arts, Volunteer, Business Agency Organization, Foundations of Cheektowaga, and Student as a Community Contributor.