Return to Headlines
PTECH Helps a Student Toward Her Career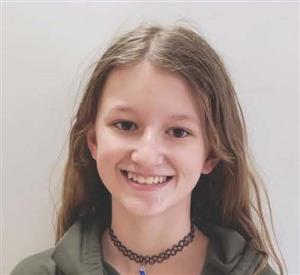 Alexis Badgett, a freshman at Cheektowaga Central High School, comes from a family of builders. She was interested in joining the P-TECH BUILD program because it will give her the tools to take her where she wants to go. After graduation, Alexis would like to pursue a career in flipping houses.
She is excited that she doesn't have to worry about paying for the first two years of college. BUILD students are provided an all-tuition-paid associate degree from SUNY Erie Community College.
"Alexis will excitedly share her projects that she is working on outside of school and is eager to relate her experiences with what she has been learning in class. She is quick to grasp the theory behind our projects and apply it to our practical activities. I do not doubt that she will achieve great success should she decide to pursue a career in the construction trades," said Michael Ortman, P-TECH BUILD Instructor.
"You don't see many females in the building trades industry, and there is an overall higher demand for skilled workers in that trade," Alexis said, adding that she hopes more girls will join P-TECH and follow her lead into the Building Trades industry.
The Cheektowaga Central School District was awarded a $2.7 million dollar Pathways in Technology Early College High School (P-TECH) grant from New York State. This collaborative grant serves students from Cheektowaga Central, Maryvale, Cleveland Hill, Cheektowaga Sloan and Depew. The P-TECH program was developed to bring together K-12 education, higher education and employers to offer an integrated six-year program. Cheektowaga Central applied for the grant and is the lead agent with the assistance and coordination from Erie 1 BOCES.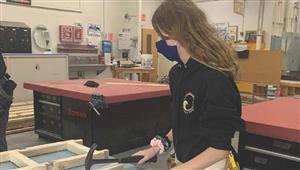 In grades 9 and 10, students will attend the Potter Career and Technical Center for part of their day and still attend their home school for some of their core subjects. By grades 11 and 12 students will also attend SUNY Erie for their college course work and their home school for the remaining graduation requirements.
Students attend Cheektowaga Central, participating in all the social aspects that high school provides, while pursuing an Associate degree and developing close relationships with potential employers in the field of either construction trades or automotive.
Every year for the next six years several eighth-grade students at each school will be selected for the program. Through it they will complete a high school Regents diploma, earn an industry–recognized and cost – free associate degree through SUNY Erie (formerly Erie Community College); and participate in internships as well as mentor opportunities from our building and construction trades partners.